Talk With a Reverse Osmosis Expert
Long Island's Most Trusted Provider of Reverse Osmosis Systems
PFAS/PFOAs
PFAS – also known as PFOAs – are a family of highly toxic, fluorinated chemicals found in more than 2,800 communities across the United States, including much of Long Island. PFAS have been used mainly in industrial settings since the 1940s, and the family includes more than 5,000 chemicals, linked to cancer and other significant health issues. The two of the most common, PFOA and PFOS, are used to make everyday items such as nonstick pans, carpets and firefighting foam. Many communities in Long Island are well over the recommended safe level. Hicksville, where Simply PÜR Water Filtration is located, has 15,198x the recommended PFOA amounts in its water.

Industrial Cleaning/Degreasing Agents
Trichloroethylene, Tetrachloroethylene, and Trichloropropane are all industrial chemicals found in Long Island water. Trichloroethylene (TCE) has been used in several industries, such as manufacture and repair of aircraft and automobiles, and in screw-cutting, while tetrachloroethylene is widely used in dry-cleaning and as a feedstock for the production of chlorinated chemicals. Trichloropropane, meanwhile, is a manmade chemical found at industrial or hazardous waste sites. It has been used as a cleaning and degreasing solvent and also is associated with pesticide products. Many of you may remember the famed Northrup Grumman Plume scandal, which involved the suspected release of TCE from its manufacturing operations into Long Island groundwater.
Nitrates/Arsenic
Inorganic contaminants such as arsenic and nitrates commonly occur in nature and often end up in our groundwater. Others are a result of manmade pollution, while still more such as nitrates occur because of interactions between nature and pollution. A known carcinogen, repeated exposure to arsenic can lead to cancers, developmental effects, and cardiovascular disease. Inorganic arsenic is naturally present at high levels in the groundwater throughout the United States, including Long Island. Meanwhile, high levels of nitrates in your drinking water can also be dangerous to health, especially for infants and pregnant women, may cause cardiovascular disease.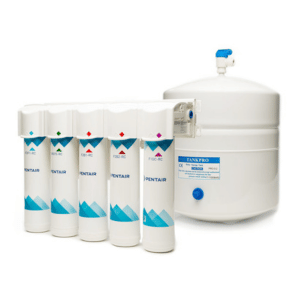 Pentek® Freshpoint Multi-Stage Reverse Osmosis Systems
High-efficiency GRO 75 GPD membrane technology
Effortless click-in lock cartridge installation
3/8" push fit plumbing connection for easy installation and high flow
Water supply valve shut off fits multiple piping styles
Color coded cartridges to maintain proper filter sequence
Lead, chemical and VOC reduction cartridge
3/8″ tubing to storage tank and faucet
Built-in check valve with multi-point backflow protection
Utilizes the dual technology of the DFX Diamond Flow series combining a sediment and carbon block in one cartridge
Faucet with air gap included

Includes high performance VOC carbon block filters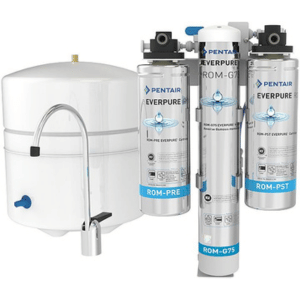 Everpure® ROM IV Reverse Osmosis Systems
Improves treated water to provide high quality, clean, crisp water for drinking and cooking
Reduces chlorine taste and odor
Reduces dirt, rust and other fine particulates commonly found in tap water
Helps prevent lime and scale build-up in water appliances
Sediment
Chlorine taste & odor
Dissolved minerals
TDS (Total Dissolved Solids)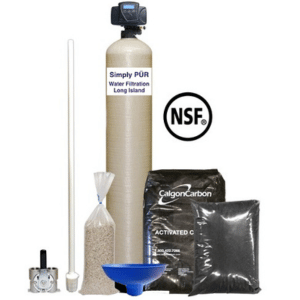 Whole-Home Carbon Filtration Systems
Our granular activated carbon filters are commonly used to treat foul odor, bad taste, or to remove chemical impurities from the water supply. It's designed to reduce sediment, chlorine content, volatile organic compounds, and various other contaminants. Our water specialist will determine which whole home carbon filtration system is right for you.